When you receive bank deposits from WePay, you may want to know which registrations are part of the payment. To see this information, you will need to view these details from your WePay dashboard:
1. Log in to your WePay account. On the 'Reporting' tab, you will have access to a list of your Payments, Settlements, and Chargebacks:
Payments are from your customers (or to the customer in the case of a refund)
Settlements are WePay's payments to you (sometimes referred to as "withdrawals")
Chargebacks are disputed amounts from your customers
2. To see what is part of a payment to you, go to the Settlements tab and download the report for the desired payment date. You will receive an email when the report is ready to download.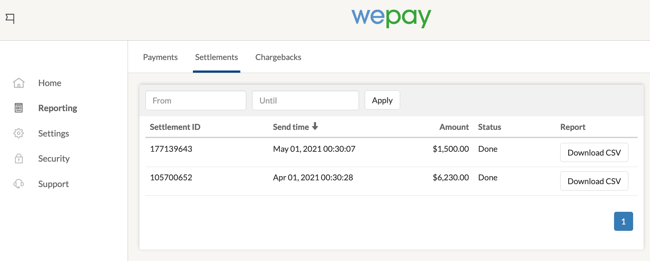 3. The Settlement Download file includes the payment date, amount, and purchaser information in a CSV file. You will be able to view more registration details such as registrant name, session and location information, and ActivityHero registration ID number in the field labeled "memo":

4. If you want to filter or sort the data, you can split the "memo" column into separate fields using Excel or Google Sheets. Use the function Data > Text to Columns in Excel Windows/Mac (or in Google Sheets, use Data > Split Text to Columns).