Importing data into ActivityHero
You can import your locations, camps, classes, and schedules into ActivityHero. Just follow these steps:
1. Download the location, activity, upcoming schedule and promo code csv files to see the required file format. These files will contain the current information that is in ActivityHero. Or you can start with this sample file:

2. Edit the csv files and add your current information. Details on the data fields and valid values are provided below. Pay special attention to the values for location_name and activity_name. These values must be the same in each file. If the file contains a location_name, activity_name, activity_schedule_id, discount_id that matches an existing value in ActivityHero, then the associated information will be updated with what is in the file. Otherwise, a new location, activity, schedule or promo code will be created.
3. Upload your csv file by clicking "upload a new file". Be sure to select the file type that corresponds with the file you are uploading.
4. After uploading your csv file, click the Validate button to see if your data is ready for import. If there are no errors, an ActivityHero staff member will complete the final import. If there are errors, correct the errors and upload your file again.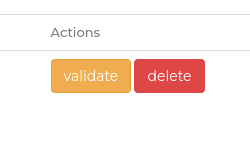 5. When the file is validated successfully, the green 'Run' button will be available. Select this button to begin importing your information. This can take a few minutes and changes may not be seen in the marketplace right away.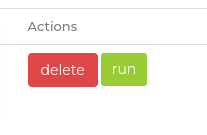 Note: Importing will create a new location or activity if it's a new location_name or activity_name, otherwise, the existing entry will be updated with the data in the latest import file. To edit an existing schedule or promo code through an import, download the corresponding file, edit as needed, keeping the activity_schedule_id or discount_id intact to overwrite the existing value.
Contact support@activityhero.com if you have questions or problems.
Data fields (* required fields)
Location csv
location_name *
is_main_location (yes or no)
location_address *
location_city *
location_state (abbr. CA) *
location_zip *
location_country
location_phone
Activity csv
activity_id
activity_name *
activity_type (Class, Camp, Birthday Party, Event, Online or On-Demand) *
activity_description *
activity_categories (comma-separated list of Categories) *
activity_photos (comma-separated list of urls)
registration_ends (when the session ends, when the session starts, before the session starts, before the session ends)
reg_cutoff_days (No. of days before session start date to stop accepting registrations)
student_teacher_ratio
registration_form_name*
prerequisites
itinerary
remember_to_bring
private (true, false)
deprecated (true, false): using 'TRUE' will mark an activity 'Not Used'
Schedule csv
activity_schedule_id
location_name *
activity_name *
session_name
start_date (MM/DD/YYYY)
end_date
start_time (HH:MM AM/PM) *
end_time (HH:MM AM/PM) *
min_age_in_months
min_age_in_years *
max_age_in_months
max_age_in_years *
price *
price_type (per class, per session, per month, per hour, per day, per week, per year, per season) *
days_of_week (comma separated list of mon, tue, wed, thur, fri, sat, sun) *
min_grade
max_grade
price_label
alt_price
alt_price_label
extended_care_am_time
extended_care_pm_time
extended_care_am_price (AM price per session)
extended_care_pm_price (PM price per session)
extended_care_overall_price (price per session)
extended_care_overnight_price (overnight price per session)
status (Published or Unpublished)*
num_of_openings *
(No. of spots available)
teacher_name
room_num (Room number)
flexible_schedule
extended_care_am_per_day_price (AM price per day)
extended_care_pm_per_day_price (PM price per day)
extended_care_per_day_price (price per day)
extended_care_per_hour_price (price hour day)
registration_start_date (MM/DD/YYYY)
registration_start_time (HH:MM AM/PM)
registration_cutoff_date (MM/DD/YYYY HH:MM AM/PM)
registration_start_timezone (Hawaii, Alaska, Pacific Time (US & Canada), Mountain Time (US & Canada), Central Time (US & Canada), Eastern Time (US & Canada), GMT, Atlantic Time (Canada), London, Madrid, Lisbon, America/Puerto_Rico, Kathmandu)*
external_schedule_id
allow_proration (true or false)
single_day_price
single_day_alt_price
registration_ends
registration_cutoff_days
num_of_scholarship_spots
lowest_scholarship_price
meeting_url
meeting_details
session_type (single_day, series or monthly)* PS: supports only when creating a session
payment_plan_names
additional_session_fee_name
(column name is the additional provider fee name and the rows can contain respective schedule fee value.)
Promo code csv
discount_id
promo_code_name
promo_code *
discount_type (promo code) *
promo_code_description *
expiration_date (MM/DD/YYYY) *
activity_type (Camp, Class, Birthday Party)
discount_amt *
combinable (true or false) *
amt_in (dollars, percent)*
num_of_promo_codes (Maximum number of valid promo codes)
min_spend (Minimum amount to be spent for the promo code to be applicable)
apply_amt_to (entire_registration_amount, session_price_only, extended_care_only, session_and_ex_care_only)*
session_ids ('all' or Comma separated list of session ids for which the promo code will be valid. 'all' will apply this promo code to all upcoming sessions for this provider)
min_num_of_sessions
apply_to_all_sessions (true or false)
min_num_of_siblings
apply_to_all_siblings (true or false)
apply_to_entire_family (true or false)
allow_multiple_per_family (true or false)
internal_notes
valid_for_new_accounts_only (true or false)
overlap_period_type
recurring (true or false)
single_days (true or false)*
entire_session (true or false)*
Early discounts csv
discount_id *
name
discount_type (early bird) *
description *
expiration_date (MM/DD/YYYY) *
activity_type (Camp, Class, Birthday Party)
discount_amt *
combinable (true or false) *
amt_in (dollars, percent) *
num_of_promo_codes (Maximum number of valid promo codes)
min_spend (Minimum amount to be spent for the promo code to be applicable)
apply_amt_to (entire_registration_amount, session_price_only, extended_care_only, session_and_ex_care_only)*
session_ids ('all' or Comma separated list of session ids for which the promo code will be valid. 'all' will apply this promo code to all upcoming sessions for this provider)
min_num_of_sessions
max_num_of_sessions_for_percent_discount
apply_to_all_sessions (true or false)
min_num_of_siblings
apply_to_all_siblings (true or false)
apply_to_entire_family (true or false)
allow_multiple_per_family (true or false)
internal_notes
valid_for_new_accounts_only (true or false)
overlap_period_type
recurring (true or false)
single_days (true or false) *
entire_session (true or false) *
Users CSV
email *
first_name
last_name
zip
---
Categories
Academics

Academic Writing
Boys Only
Business
Civics
College Preparation/Counseling
Community Service
Creative Writing
Debate
Economics
Finance
Geography
Gifted
Girls Only
Government
History
Homeschool
International Studies
Investment
Journalism
Leadership
Literacy
Math
Montessori
Preschool
Public Speaking
Reading
Test Prep
Tutoring
Camp/Class Types

After School Care
After School Class
Camps
Date Night
Day Camps
Drop-off
For Grown-Ups
Fundraiser
Learning Pod
Online Course
Overnight Camps
Parent Night Out (PNO)
Special Events
Community Awareness
Dance

African
Afro Haitian
Ballet
Ballroom
Belly Dance
Bollywood
Breakdance
Contemporary
Hip Hop
Indian Classical
Irish
Jazz
Latin
Lyrical
Modern
Pointe
Tap
Girl Scouts
Health & Wellness

Beauty
Meditation
Mindfulness
Yoga

Holidays

Halloween
Spring Break
Thanksgiving
Winter Break

Internship
Language

American Sign Language
Arabic
Chinese
ESL
French
German
Hebrew
Hindi
Italian
Japanese
Korean
Russian
Spanish
Music

Accordion
Banjo
Bass Guitar
Bassoon
Carnatic/Hindustani
Cello
Clarinet
Classical guitar
Drums
Fiddle
Flute
French Horn
Guitar
Harmonica
Harp
Mandolin
Music Theory
Oboe
Opera
Organ
Percussion
Piano
Rock
Saxophone
String
String Bass
Trombone
Trumpet
Tuba
Ukulele
Viola
Violin
Voice
Wind
Overnight/Travel

Africa
America
Asia
Central America
Europe
Family
Field Trips
Overnight/Residential
South America
Performing Arts

Acting
Aerial
Audition skills
Circus
Comedy
Drama/Theater
Puppetry
Play/Outdoor

Adventure/Outdoors
Animals
Backpacking
Birthday Parties
Canoeing
Environmental
Farm
Fishing
Gardening
General Recreation
Hiking
Nature Programs
Party Entertainers
Party Places
Rafting
Wilderness
Religious

Baptist
Catholic
Christian
Jewish
Lutheran
Non-Denominational
Presbyterian
Quaker
Science & Technology

Astronomy
Biology
Chemistry
Coding
Computer Animation
Computers
Engineering
Geology
Marine Science
Programming
Robotics
Science
Space
Special Needs

Autism
Cancer
Cerebral Palsy
Developmental Disabilities
Diabetes
Dyslexia
Hearing Impaired
Intensive Therapy
Learning Disabilities
Physical Disabilities
Social Skills
Visually Impaired
Sports

Acrobatics
Archery
Badminton
Baseball
Basketball
Biking
Cheerleading
Chess
Climbing
Cricket
Cross Country
Fencing
Field Hockey
Fitness
Flag Football
Football
Frisbee
Golf
Gymnastics
Hockey
Horseback Riding
Ice Skating
Kayaking
Lacrosse
Martial Arts
Multisport
Pilates
Rock Climbing
Roller Blading/Skating
Rowing
Rugby
Sailing
Skateboarding
Skiing
Skiing and snowboarding
Snowboarding
Soccer
Softball
Squash
Surfing
Swimming
Table Tennis
Tennis
Track and Field
Tumbling
Volleyball
Water Polo
Waterskiing
Water Sports
Winter Sports
Wrestling
Visual Arts

Building
Carpentry
Cartooning
Ceramics
Clay
Cooking
Crafts
Digital Media
Drawing and Painting
Fashion Design
Industrial Arts
Jewelry Making
Knitting
Lego
Models
Photography and Video
Pottery
Printmaking
Sculpture
Sewing
Woodworking