Note: Credits may also be issued as part of the standard refund process.
See this article for details.
You can choose to issue user credits to families as a promotion, or as an alternative to providing a refund. When you issue User Credits, they are only valid for your activities and will apply automatically to the users cart at checkout*.
Issuing Credits
1. From your dashboard, navigate to 'Registrations & Payments' > 'User Credits'.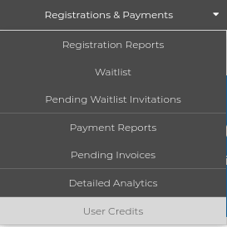 2. User Credits can only be issued to existing ActivityHero accounts. Be sure to enter the user's email correctly into the Account Holder Email field. Enter the amount of the credit, the expiration date and a note on the reason for the credit. The user will see this note.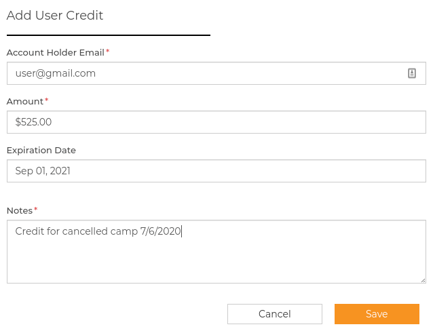 3. Once you select Save, the issued credit will be added to the list and the Account Name of the user will automatically populate. From this screen you may choose to edit or delete credits at any time, unless the credit amount has gone down to $0.
If a user cancels a session purchased with their credits, you will need to issue new credits to them.

4. *Credits will continue to be automatically applied to your sessions in the user's cart at checkout until the amount has been exhausted, however, the user has the option to choose not to use them, by unchecking the box under their total amount due. The user does not have the option for only using a portion of their credit amount.