In this article:
Refund policies are important to help parents know what their options are when plans change unexpectedly. They should consider how long you need to fill the canceled spot, as well as your ActivityHero fees. You can also create different refund policies for different activities and seasons, and create new ones each year.
Custom Cancellation Policy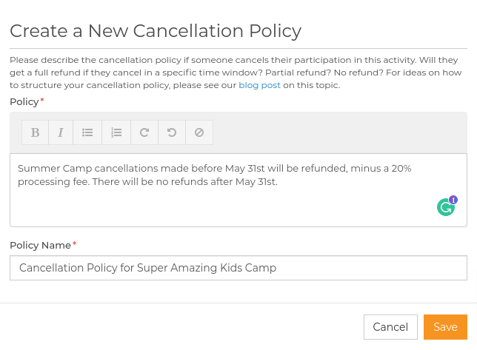 Here are a few examples of refund policies that may work for you:
"PLEASE NOTE THE TERMS OF REFUND/CANCELATION POLICY: Cancellations made before May 31st will be refunded, minus a 20% processing fee. There will be no refund after May 31st."
"We understand plans change and are happy to issue a full refund minus 15% of the cost of the program and a $40 registration fee on all cancelation notice given at least (3) days prior to the start date of a class or at least (7) days prior to the start date of a workshop or camp. There are no refunds for cancellations made (3) days or less for classes and (7) days or less for workshops and camps. Refunds cannot be provided for "no-shows". If a class is canceled due to low enrollment, teacher emergency or inclement weather, students will be notified by telephone, and a refund will be made."
"CANCELLATION: 30 days prior to the first day of camp, you may apply funds towards another 2015 session or receive a 100% refund (minus processing fees). Up to 15 days prior to the first day of camp, a 50% refund (minus processing fees) will be issued or 100% towards another available 2015 session. 14 days prior, you may transfer to another 2015 session but unfortunately, no refund will be issued. However, if a camper has an unforeseen medical condition and cannot participate in the camp, a full refund will be issued with a doctor's note. Sorry, there are no make-up days. "
ActivityHero 24-hour Risk-Free Refund Policy
ActivityHero offers a 24-hour Risk-Free Cancellation policy that allows a grace period for cancellation. When enabled, families will have the ability to cancel the registration by themselves as long as it meets the following criteria:
Original registration was made within the previous 24 hours
The session start date is in 14 or more days
Families can cancel the registration from the My Registrations page if the above criteria is true and will automatically receive a full refund. You will not be charged any fees in this case.
After the 24-Hour Cancellation period, refund policies will default to the custom policy set in the activity.
To Enable 24-Hour Risk-Free Cancellation
1. In your activity manager, select the button to automatically enable 24-Hour cancellation on all of your current activities.

2. In a single activity, select the description tab and scroll to the section marked 'Registration Form'. Check the box to allow 24-Hour Cancellation.