One of the best ways to get registrations on ActivityHero is showing higher in the searches parents see. Here are some tips to show higher in results.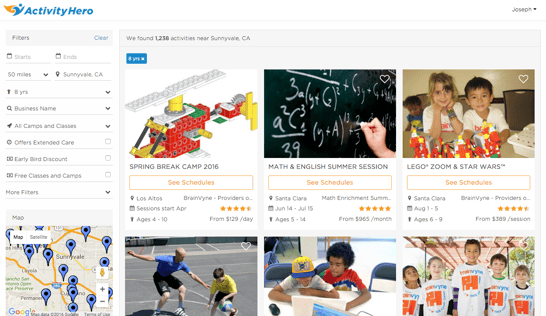 Schedules:
ActivityHero searches show current or future schedules. Parents are more interested in the classes you will offer, and less interested in what has been offered in the past. The search results will display schedules that haven't started yet, and are sorted with the activities ending the soonest at the top. Make sure that your schedules are up to date, so parents are finding them.
Location:
ActivityHero makes it easy for parents to find activities in their area, so only activities in a radius round them will show. If you have activities in different locations, don't forget to add those new locations, so parents find you.
Tip: If you have permanent pick-up and drop-off locations, to make access to your activities easy for parents outside of your area, create locations for them so they show up in the are
Open for Registration:
ActivityHero shows schedules that are open for online registration near the top of the list. We want to help parents find and register for activities. If you aren't taking registration on ActivityHero yet follow this
link
for more information.
Reviews:
Parent reviews help push listings to the top of search results. A listing with reviews will show up above a listing without reviews. If you know of parents that would happily recommend your camp, have them fill out a review on your page on ActivityHero.
Boost:
Get increased views to your activity by purchasing boosts, which will place your activities higher in search results (or in our parent newsletter). Choose which activities you want to boost, where you want them promoted, when you want the promotion to start, and how many people see your offerings.