Note: ActivityHero cannot issue refunds without provider consent. If a parent contacts you for a refund, you may issue it from your dashboard at any time.
---
When you need to process a full or partial refund, ActivityHero makes it easy to issue a refund back to the purchaser:
Credit card refund (within 270 days of the original transaction date)
Provider credit (this is a credit to a future program you are offering)
Check (that is sent by you)
To process a refund:

1. Sign into your ActivityHero account
2. Select "Registration Reports"

3. Search for the name of the child to be refunded
4. Under the child's name and information click

5. Click "Refunds and Cancellations"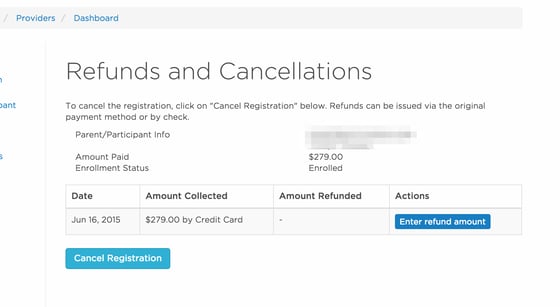 6. Click


7. Confirm the amount to be refunded or customize the amount, select the method of refund (check, credit card or credit), and add any additional information.*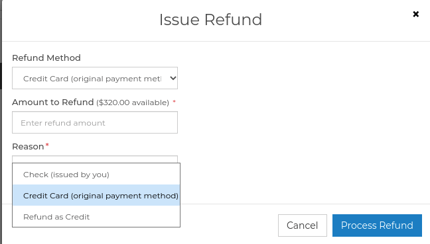 8. Then select

The purchaser will be sent an email to confirm the refund has been made.
9. To change this participant's enrollment status to "cancelled," click

will immediately remove the registration and open an available spot.
Tip: You may want to invoice any waitlisted participants before clicking

so they have the first opportunity to fill the open spot.
*You are able to refund to the purchaser's credit card within 270 days (9 months) of the purchase. Any refunds 270 days or later must be issued by you in the form of a check or provider credit.
---
Are ActivityHero fees refundable?
ActivityHero's registration fee (or marketing fee, if applicable) are not refundable. These fees are for registration tools and/or advertising of your program and have been incurred at the time of registration.
In order to issue refunds, you are required to have a credit card on file. We will charge that credit card for the amount of the non-refundable fees.
If you issue a FULL refund to the customer, the 3.19% credit card fee (excluding the fixed portion of 49 cents) is refundable and you are charged only the registration fee (or marketing fee, if applicable).
When issuing a PARTIAL refund, ALL fees are non-refundable. If the amount you did not refund covers ActivityHero fees, the credit card on file will not be charged. If it does NOT cover the fee amount, the balance owed will be charged to the card on file.
For example, a parent canceled their $100 registration. The original registration had a marketing fee of $15 and a credit card fee of $3.68. You charge a $10 cancellation fee and refunded the parent $90. Since the remaining $10 does not cover the $18.68 in marketing and credit card fees the credit card on file will be charged $8.685.
If you have a credit card on file, you will see this message when issuing refunds.
If you do NOT have a credit card on file, you will see the message below.
You can also add a credit card to your listing by going to your Dashboard/Manage Listing/Billing