Many camps offer scholarships or financial aid through ActivityHero's scholarship program, where you can submit one application to apply for all nearby camp scholarships.
You can see which sessions have scholarships by viewing the camp schedule. There will be a "Scholarship Available" link if there are scholarship spots being offered for that session. You can apply for these camps through the scholarship application.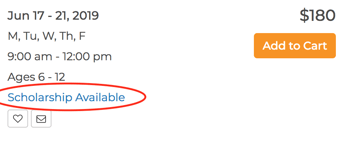 Some camps have their own scholarship or financial aid program. These can be found on ActivityHero by searching for "scholarship" or "financial aid" to see what's available near you. Some have an application on ActivityHero or you can contact the program for more information.